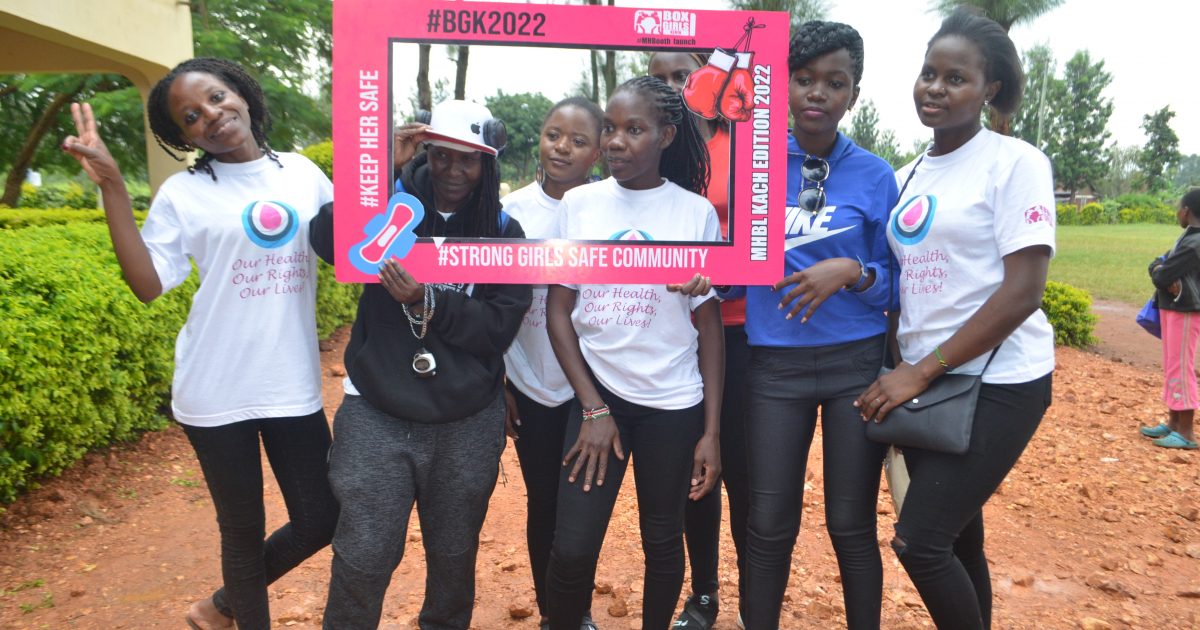 Boxgirls Kenya has launched Menstrual Health Booth through the Uzuri project to support girls from villages to access sanitary towels at a cheaper price of Sh5 for two pieces.
The innovative booth is the first of its kind in Western Kenya, an approach that Boxgirls with support from the American Jewish World Service, is using to address menstrual health hygiene challenges facing rural girls.
Ekambuli is a rural area in Kakamega at Emusalaba with high poverty levels where parents are unable to afford sanitary towels and rarely discuss sexual and reproductive health matters with their adolescent girls.
Maurine Atitwa who led Boxgirls' team in launching the project while commemorating World Menstrual Hygiene Day said the same project has benefited over 1500 girls in slum areas of Nairobi County.
The areas are Kariobangi, Huruma, Mathare, Korogocho, Kayole, Kariandudu, Babadogo and now the project has been extended to Ekambuli in Kakamega.
"We thought of a very sustainable way that will enable girls to be retained in school and access sanitary towels at the comfort of their place," she noted.
To start with, the organization received donations from Binti Kenya, The Foundation for International Cardiac and Children Services (FICCS) and La Guilde.
The community also raised Sh5000 and donated 10 boxes of sanitary towels which will be made available through the booth for girls from the area to access them at any time of the day.
"We encourage the community to take part in this project. We even included them from designing of the project to implementation," she added.
It works by inserting a five-shilling coin, where the vending machine known as Napkin Vending Machine will release two pieces of sanitary towels. The amount that will be collected from the booth will be used alongside other donations from the organization and willing partners to purchase more pads.
Apart from launching the booth, Boxgirls also mentor girls to boost their confidence and educates them on best sexual and reproductive health practices.
The project will cushion girls from the villages who struggle to access sanitary towels for lack of enough money, keep them in school, boost their confidence and self-esteem leading to improved performance in class.
While launching the project, Boxgirls also engaged girls from the communities to demystify myths associated with menstrual hygiene.
Atitwa noted that the project will be rolled out to other areas once they get more donors and those willing to partner.
Parents who were present welcomed the idea promising to be part of the project .They said, speaking about Sexual Reproductive Health to their girls was a challenge but they have been challenged to be open to support them.
The innovative Menstrual Health Booth has received support from other girl empowerment organizations such as the Nyanza Initiative for Girls Education Empowerment (NIGEE) and Lean on Me Foundation which have borrowed the idea to implement in their counties.
Lucy Masika from Nyanza Initiative for Girls Education Empowerment said since they started partnering with Boxgirls in 2018, they have reached out to many girls.
One of the parents who spoke to KNA Rodah Ochenge thanked Boxgirls Kenya and partners for the support that will relieve them the burden of getting sanitary towels.
Boxgirls is a Community Based Organization that uses boxing in creating spaces for women and girls to lead dignified lives in secure communities with control over their sexualities and economic development.
By Moses Wekesa